Actionstream Direct Media Limited
was incorporated in May 2000 and has its headquarters in Herefordshire. It is located approximately 90 minutes from Bristol, Birmingham and Cardiff and 2.5 hours from London and Manchester.

Personnel and Associates:

Laurence Middleton Jones - Managing Director. Laurence brings a background in advertising, film and video production and education to the company in conjunction with business and new media experience.

Marcia Middleton Jones - Production. Marcia is ane experienced producer & live webcast engineer. She also brings extensive overseas production experience to the company.
David Futcher - Production. David brings many years of production experience to the company from a wide variety of corporate and broadcast events.

James Ward - Programming. James's vast programming experience and imaginative approach means elegant and innovative solutions to client requirements for webcasting and e-commerce databases and content management systems.

Paul Butterfield - AV installation design. Paul brings over 20 years of world class audio and video installation knowledge and experience in creating leading webcasting and AV installations. Systems Paul has designed include those used in the Harold Shipman Enquiry, the Commonwealth Games Committee showcase, the Bloody Sunday Enquiry, and the G-MEX International Conference Center.

Mark Haig - AV Installation design & management. Mark's huge experience in design, technical facilitation, installation and project management encompasses a wide range of events including 'new media art. Events include: 'The Big Chill', Manchester IDEA video wall/CCTV and the Inga Burroughs outdoor projection project.

Jason Chapman - Design and Animation. Jason brings experience in Los Angeles and UK film and TV animation and has completed work for the BBC, Hartwood, ITV and SC4.

Tim Davies - Animation and Motion Graphics. Tim worked with Steven Spielberg at Amblin for 7 years and is a leading motion graphics and animation designer.


First Floor, 7&8 High Town, Hay-on-Wye, Hereford HR3 5AE, UK
Company number: 3994686
VAT number: 753282723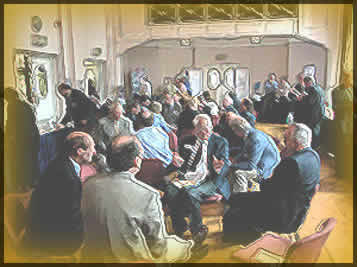 Production Associates:

Alan Afriat - Production. Alan has many years of experience in the film and video industry and won a BAFTA technical award for editing World at War for Thames Television.

Nick Hale - Cinematography. Nick's experience and camera work is legendary. Apart from his work for broadcasters, he has shot corporate videos for Nestle, British Gas, Beckman, CM&G Insurance, Wimpey, Salvesens, Gas Consumers Council, MSC, NatWest, TSB and BT.

Roger Prior - Lighting Cameraman. Roger's list of credits fills several pages - from Royal weddings to the soaps and major international sports events on terrestrial TV.

Bill Johnson - Cameraman. Bill brings superb production experience to the company, his long list of credits include Horizon for the BBC.